(The text below was posted July 27th,2000 shortly after I was released from the hospital. We returned from China on July 8th, and by July 17th, I was ensconced on the 3rd floor of a major metropolitan hospital, clawing at the walls.)
I'm just throwing up (oops, poor choice of words) a few photos from our little journey until we can get a whole travelog up and running. We are missing pictures of Aunt Sue with Raimi as well as Nana and Pa with Raimi. If anyone out there, in law enforcement or wherever, has possesion of such photos please notify me at once.
Thank you to all who cared for us during our Exciting Hospital Adventure. I am sorry I had to be sick and I'm sorry everyone had to suspend their lives, but I am glad you all got to know and love the little miraculous Raimi.

Also many thanks to the folks at Families Thru International Adoptions. They somehow (continue to) make everything work. Moving 60 plus anxious parent-to-be in various states of emotional chaos from here to there and back again - and back VERY VERY happy - is an accomplishment I won't even begin to understand. I can only say "thank you" for the perfect vacation and for sheparding us every single little baby step to bring us together with the light of our lives.
---
June 26th, 2000 at about 1:15PM
Lobby of the Dolton Hotel
Changsha, Hunan Province, PRC

Glenn just says, "I love you."

A very, very scared little baby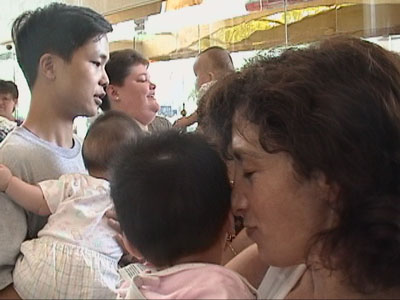 I say , "It's going to be ok, Bunny."




Suddenly, it's quiet and it's just the three of us.
(Well, four - if you count the soon-to-be-shut-off video camera.)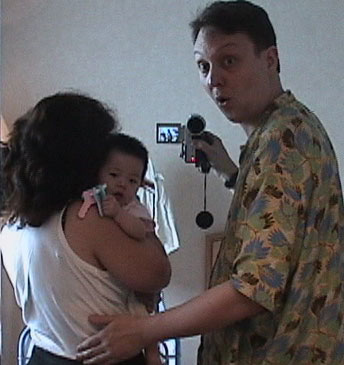 Glenn makes a funny face, which *in Glenn-ese* means,
"It's going to be ok, Bunny."


---
A very special shout out to Miss Caroline Stout, who took all but the last two pictures.



More pictures, anyone?

---
Want to see Ms. Raimi's referral pictures ? Go back to her page .




For the update we received a few weeks before we left, visit the Almost There Update.




Find out more about our agency, Families Thru International Adoption.




Every time you purchase from Amazon.com by clicking on the link below, you're helping us to be able to return to China to bring home Daughter #2